Spook Houses, Frightening Trails, Haunted Tours, and Zombies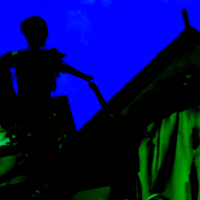 Want to get scared out of your wits this Halloween season? Below is a list of Joplin area spook houses, frightening trails, haunted tours, and zombie events. Click on the orange links to take you to the venue websites for detailed info.
*To see where these venues are located on a map, click here and you will be taken to a search page. Choose "Halloween" and  then "Spook Houses/Trails" in the dropdown menus, then you will see where they are located on a map.
Dexter's Haunted House:  A spook house located in the former Simpson's Funeral Home. New rooms added in 2014. Located at 323 S. Kansas, COLUMBUS, KS. $10 for adults; $8 for 12 and under. PHONE: 417-439-4556. (Open weekends, Sept. 26-Nov. 1)
Fear Factory Spook House: Spook house located in countryside near Carthage. Located at 2455 South County Lane 121, CARTHAGE.  $9 per person. PHONE: 417-793-2111. (Open weekends, Oct. 3-Nov. 1, plus additional weekdays close to Halloween)
Hornet Spooklight: A mysterious light that appears on a road near the Missouri-Oklahoma border. Click here for directions. (Always open)
The Manor: Scream for your life during this gory 30-minute spook house experience! Located at 4706 Gateway Drive, JOPLIN. $15 per person. PHONE: 417-592-2167. (Open weekends, Oct. 10-Nov. 1)
Psych Ward: A search-and-rescue mission at a destroyed campsite; find a nurse without encountering any zombies. Located at Dover Hill (North Main Street across from Ozark Christian College), JOPLIN. $10 per person. PHONE: 417-540-1892. (Open weekends, Oct. 3- Oct. 31)
The Twisted Forest: A haunted attraction situated on a turn-of-the-century farm that was abandoned in the 1980s because of supernatural disturbances. The 45-minute experience goes along a harrowing trail and through dilapidated buildings. Located at 601 Reddings Road, JOPLIN. $10-15 per person (depending on the date). PHONE: 417-208-9508.(Open weekends, Oct. 3-Nov. 1)
Waco School House Haunt: A spook house located in an old schoolhouse. The bottomless pit and the psych ward will have you screaming! Located at 148 Rose St., WACO. $10 per person. PHONE: 620-249-5544 or 620-875-4555. (Open weekends, Oct. 3-Nov. 1)
Wolfman's House of Screams: Over 2,000 square feet of terror has been added for the 2014 season. Ask for the "Be Easy" version if you are faint at heart. Located at 26267 King Lane, CARL JUNCTION. Call for prices. PHONE: 417-825-2005. (Open weekends, Oct. 3-Nov. 1)
Zacharias Nightmare: Enter the laboratory of Dr. Xavier, a mad scientist whose DNA experiments produced frightening creatures. Located at 13507 Briarwood Road, JOPLIN. $8-10 per person. PHONE: 417-540-8944. (Open weekends, Sept. 26-Nov.1)
Do you want to celebrate the harvest season in the daylight? Then, click here.
Photo by Jennifer C. on Flickr.

---
Living Life to The Fullest!

I love seeking out new experiences and finding places off the beaten path. I started
Joplin MO Life
in August 2013 as a way to share my discoveries with others in the Joplin community so that they can learn about the resources that exist right in their own backyards.
I have worked in education and event planning, and have always loved to write. I hold a master's degree in journalism from the University of Oklahoma and a bachelor's degree in marketing from Tulane University.